Wheelchair Accessible Porta Potty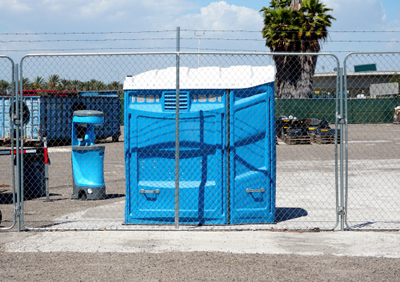 A wheelchair accessible porta potty is equipped with a range of features that help people with disability access the restroom easier. At the same time, the spacious unit can find its application in many other situations, such as: festivals, weddings, marathons and construction sites. The wheelchair accessible restroom is larger than regular portable bathroom, which helps you feel more comfortable and mobile. Besides that, this type of porta potty has many other safety and comfort measures implemented that are likely to persuade you to choose it when looking for a rental portable restroom in Indianapolis.
Features
When it comes to wheelchair accessible porta potties, the main goal is to make the unit friendly to people that suffer from a physical impairment and can't move on their own feet. To help the less mobile users access the restroom, the unit was designed with a flat floor. The floor has the same height with the surface outside, which allows the disabled person enter the unit with little effort, as opposed to the raised floor in regular portable restrooms that makes up for an obstacle for people using wheelchair. Another helping element is the rails installed on the walls of the unit. People can grab hold of the rails and help themselves moving. They can also use the rails to turn the vehicle or park it in the required position.
People that are not wheelchair users can also take advantage of the support bars. They can hang their clothes, while relieving themselves. In this way they make sure their coat or jacket is in a safe place, far away from harmful bacteria. When it comes to other features that you can find in wheelchair accessible porta potties for rent in Indianapolis are a hand sanitizer and a toilet paper dispenser that is fully stocked to allow it be used at events that bring together a lot people, or at camping sites in case you plan a long stay. The sanitizer comes in a bottle of a decent size to ensure that you don't fall short of cleaning agent soon. The solution consists of powerful chemicals that destroy bacteria and germs at ease.
Ventilation plays a crucial role in portable units. This is why, wheelchair accessible porta potties are equipped with ventilation slots that allow for the access of fresh air inside the box and neutralize odors. Provided that this portable toilet type is significantly large, the ventilation slots are also large to make sure that more clean air comes inside. Moreover, the slots are a source of light that improves the visibility during day time. But if your plan is renting the unit overnight, you will be better off including a lightning kit in your rental package. Safety is also a priority in rental wheelchair accessible porta potties in Indianapolis. The door of the units can be secured in two ways. You can choose either to secure yourself with a lock with keys or with a hasp. Both mechanisms are durable and leave no chance to attempts of opening the door using force.