Luxury porta Potty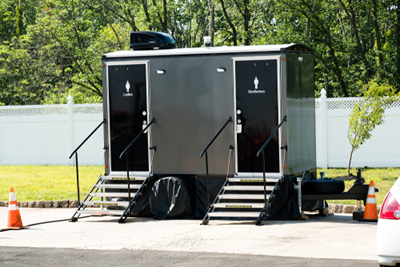 We cannot downplay the role that porta-potties play in events, a porta potty, just like the name sounds, is a portable toilet unit. They are mostly used in events and halls that cannot adequately serve several people.
These units are normally obtained from rental companies and transported to the site. Depending on your arrangement with the company, some may offer on-site emptying and cleaning. However, this may only be possible for smaller units. In case you are inviting guests for your party or a corporate event, you should consider getting a porta potty. Most people have a biased idea of porta potty, viewing them as just simple structures with only basic features.
If you fall under that category, allow me to change your mind today. The luxury porta potty is bigger than your imagination. Just like the name goes, this unit spews luxury. Therefore, if you are organizing a corporate event to be attended by the who is who in the industry, this is all you need. In this article, we will look at some of the things you should consider before and when getting your luxury porta potty. We want to ensure that you get value for your money.
The flexibility of your rental company
Your rental company plays a major role in the success of your event. If you go for one that is not flexible enough, they might ruin your entire day. Therefore, make sure that you settle on a company with amazing customer reviews and feedback. Your company's flexibility will determine whether or not the porta potties will arrive on time. Some agents should also be on-site to ensure the proper functioning of the toilets, or you might get stuck and frustrated.
Cost
This is one of the biggest factors that you need to look out for. Luxurious porta potties do not come cheap. Therefore, you will spend a fortune if you have several guests. An important hack that can help you sail safely before getting a unit is weighing your budget against the costs. In case you are wondering why these units cost an arm and a leg, keep in mind that they have superior features. Most luxurious porta-potties are better than residential toilets. Your guests will feel in their natural environment or even a better one. Isn't that what you want?
Comfort
The main reason why you are getting these luxurious options is to ensure that your guests are comfortable. Comfort is a huge term that refers to several things. First, make sure that the units are properly designed with good lighting and automatic dispensers. It would be best if you also ascertained that there is proper air conditioning and state of the art features. The truth is, you do not want to spend a lot of money for nothing. The floor should also be properly made with anti-slipping materials.
Indianapolis
Indianapolis is one of the major sports hubs in the United States. It hosts two NBA teams and several other leagues. If you need a flexible company that will offer you premium porta potty services, do not fail to contact us.