Children's Museum of Indianapolis
The next time you're in Indianapolis with your family, be sure to check out the Children's Museum of Indianapolis for an unforgettable experience for your whole family. With indoor and outdoor exhibits on a variety of topics and cultures, there's a little something for every member of your family at this museum!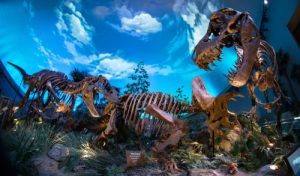 Indoor Exhibits
Midwestern winters can be harsh, but that doesn't mean you have to stay cooped up in the house. In fact, the exhibits are designed to help transport your families to new places and learn about history, science, and different cultures in an immersive and engaging way!
Travel to Greece and prepare authentic meals while learning how to speak basic Greek phrases like "hello." You'll also learn about the Greek fishing and olive oil industry, as well as see what homes look like in Athens and Corinth. Escape Indiana for a moment and make your way to the beautiful Mediterranean for the afternoon.
Looking to dig up a different adventure? Check out the Dinosphere exhibit! Dig up dinosaur bones and even get a chance to touch a REAL T. Rex bone in this indoor exhibit! You can even see a mummified dinosaur and learn about the Mission Jurassic dinosaur bone excavation site in Wyoming, all while never leaving Indiana!
Be sure to check the Children's Museum website prior to planning your visit to see what indoor exhibits are available as they do change them out periodically to keep the experience fresh and exciting for guests.
Outdoor Exhibits
Certain times of the year, the outdoor exhibits are open for families to come and play outside! Indiana is known as a state with a proud sports history, and these outdoor exhibits showcase that sporting spirit. Take a walk down the Avenue of Champions and learn about 12 sporting legends. Or head over to the fitness path and track and get fit as a family!
Families can also visit Wiese Field, a miniature baseball park that will allow you to practice your swing or throw the perfect strike. Basketball more your thing? Try out the basketball hoops (set at different heights and sizes) and see if you have what it takes to win the game! Or maybe you're looking to race around the track or try out a drag race. Pedal your way to victory at the museum's race track!
Other sporting areas available are football, hockey, golf, soccer, tennis, and the tree of sports! There is truly something for every member of your family in the outdoor section of the museum!
Holiday Experience
If you happen to visit the museum during the holidays, be sure to check out the Jolly Days celebration! Children can slide down the Yule Slide, meet beloved holiday characters and visit with the one and only Santa Claus! You can even put yourself inside a giant snow globe and make it snow!
Families can also experience ice skating (in their socks!) and ice fishing in the pretend pond. Afterwards, be sure to check out the ice castle and bake some wintertime treats (fake of course!). The holiday season is even more special at the Children's Museum of Indianapolis!
---